By Aaron Bragman
on July 7, 2015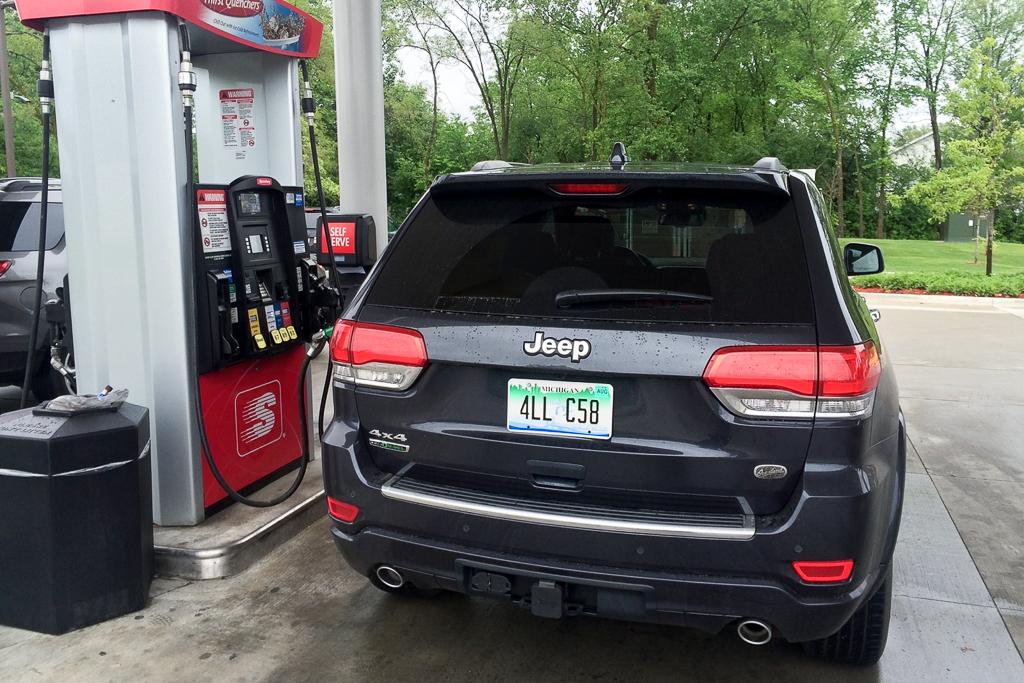 2015 Jeep Grand Cherokee;
Cars.com photo by Aaron Bragman
I've never understood why diesel engines aren't more popular in the U.S. Our love of trucks and thirst for torque, towing ability, fuel economy and just plain old grunt seem to match up to diesel's characteristics, yet such engines remain in the realm of either heavy-duty work trucks or expensive luxury SUVs. Thankfully, Fiat Chrysler Automobiles has started to take its light-duty diesel engine and pop it into more approachable products, such as the Ram 1500 light-duty pickup truck and the Jeep Grand Cherokee.
Related: 2015 Jeep Grand Cherokee Versus 2015 Nissan Murano
The turbo-diesel 3.0-liter V-6 makes just 240 horsepower but 420 pounds-feet of rock-climbing, boat-pulling, tire-smoking torque. Putting the diesel in FCA's most popular SUV makes for a vehicle that provides both a measure of fuel efficiency and Hemi V-8 levels of grunt. The turbo-diesel delivers 30 pounds-feet more torque than the Grand Cherokee's optional 5.7-liter Hemi V-8, but handily beats it on fuel economy.
A base gas-powered V-6 Grand Cherokee 4×4 is EPA-rated at 17/24/19 mpg city/highway/combined, while the Hemi drops that to a dismal 14/20/16 mpg. But substitute the turbo-diesel, which admittedly comes at an even higher price than the Hemi option, and fuel economy climbs to 21/28/24 mpg. That's nearly on par with the Mercedes-Benz ML250 Bluetec's 22/29/25 mpg rating; it uses a turbo four-cylinder instead of a V-6, however.
To find out if the Grand Cherokee EcoDiesel could deliver on these fuel-economy numbers, I drove one from Ann Arbor, Mich., through the wilds of Detroit and the boredom of Ontario,to the city of Toronto. I made the trip with three passengers and luggage on the way out and two passengers and luggage on the return trip. The windows were kept up, the air conditioning on and my average highway speed was around 70 mph.
The journey's first leg was a 280.3-mile jaunt past southern Ontario's miles of empty fields and hundreds of power-generating windmills. The Jeep consumed 10.1 gallons of low-sulfur diesel fuel for a calculated fuel economy of 27.77 mpg (the Jeep's trip computer was only slightly more optimistic, reading 28 mpg).
Considering that this leg included a fair bit of stop-and-go traffic crossing the border and battling downtown-Toronto construction, the result is pretty impressive. Around town, the diesel sounds like a delivery truck engine, but that adds to the "Jeepness" of the Grand Cherokee, the rugged yet refined image that the brand has successfully portrayed for several decades now.
The return trip saw less weight in the Jeep, but had us driving against a formidable 30 mph headwind as we battled massive thunderstorms during the entire 279.4-mile journey. Despite this, the Grand Cherokee consumed 9.76 gallons of diesel and returned 28.62 mpg (the trip computer read 28.4 mpg). For much of the return journey, the trip computer read more than 30 mpg for the estimated fuel economy, a number that steadily dropped as we continued to plunge through the weather front sweeping Ontario.
Not only did the Grand Cherokee EcoDiesel provide impressive economy during my trip, but it also delivered a luxuriously appointed cabin; a smooth, well-controlled ride; and luxury-car levels of quietness at cruising speed. Spend the extra $1,205 above the price of the optional Hemi to get the EcoDiesel engine in the Grand Cherokee Limited or Overland trims; you won't regret it.
Jeep Grand Cherokee 2015 Overland
Fuel Efficiency
SUVs
---
Detroit Bureau Chief Aaron Bragman grew up in the Detroit area, comes from an automotive family and is based in Ann Arbor, Mich. Email Aaron
---
This article was not written by Michigan Lemon Law.
View Original Article
Written by: Aaron Bragman